History of Tattooing
The word tattoo comes from the Tahitian "tatu" which means "to mark something." The earliest tattoos were found in Egypt during the time of the construction of the great pyramids (It undoubtedly started much earlier).As the empire expanded to Greece, Persia and Arabia, so did the art.
The Greeks used tattooing for communication among spies. Markings identified the spies and showed their rank. Romans marked criminals and slaves. The Ainu people of western Asia used tattooing to show social status. Girls coming of age were marked to announce their place in society, as were the married women. The Ainu are noted for introducing tattoos to Japan where it developed into a religious and ceremonial rite. In Borneo, women were the tattooists.
Polynesians developed tattoos to mark tribal communities, families, and rank. They brought their art to New Zealand and developed a facial style of tattooing called Moko which is still being used today. There is evidence that the Mayan, Incas, and Aztecs used tattooing in the rituals.
In the west, early Britons used tattoos in ceremonies. The Danes, Norse, and Saxons tattooed family crests (a tradition still practiced today). In 787 AD, Pope Hadrian banned tattooing. It still thrived in Britain until the Norman Invasion of 1066. The Normans disdained tattooing. It disappeared from Western culture from the 12th to the 16th centuries.
While tattooing diminished in the west, it thrived in Japan. At first, tattoos were used to mark criminals. In time, the Japanese escalated the tattoo to an aesthetic art form. The Japanese body suit originated around 1700 as a reaction to royal strictures. Only royalty were allowed to wear ornate clothing. As a result of this, the middle class adorned themselves with elaborate full body tattoos.
In 1691, William Dampher, a sailor brought a heavily tattooed man known as Painted Prince to London. He was put on exhibition and became a rage in London. It had been 600 years since tattoos had been seen in Europe. In the late 1700s, Captain Cook brought a heavily tattooed Polynesian named Omai. He was a sensation in London. Soon, the upper- class were getting small tattoos in discreet places. For a short time tattooing became a fad.
What kept tattooing from becoming more widespread was its slow and painstaking manual process. In 1891, Samuel O'Rtiely patented the first electric tattooing machine. The basic design with moving coils, a tube and a needle bar, are the components of today's tattoo gun. The electric tattoo machine allowed anyone to obtain a reasonably priced, and readily available tattoo. As the average person could easily get a tattoo, the upper classes turned away from it.
By the turn of the century, tattooing had lost a great deal of credibility. Tattooists worked the sleazier sections of town. Heavily tattooed people travelled with circuses and "Freak Shows." The cultural view of tattooing was so poor for most of the century that tattooing went underground. Few were accepted into the secret society of artists and there were no schools to study the craft.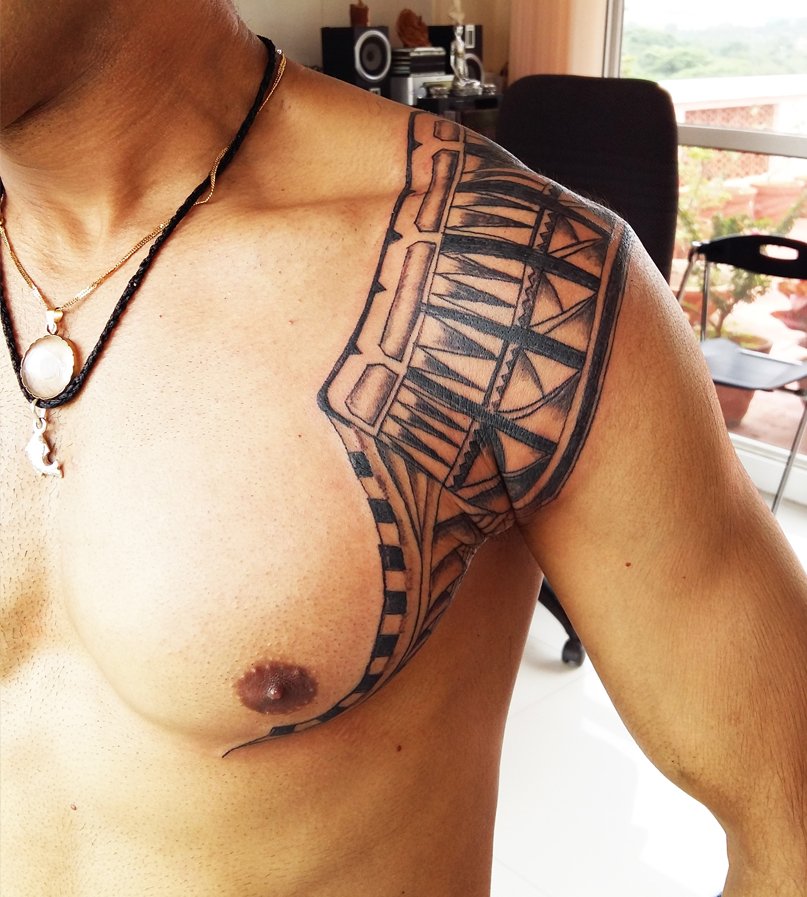 The birthplace of the American style tattoo was Chatham Square in New York City. At the turn of the century it was a seaport and entertainment center attracting working-class people with money. Samuel O'Riely came from Boston and set up shop there. He took on an apprentice named Charlie Wagner. After O'Reily's death in 1908, Wagner opened a supply business with Lew Alberts. Alberts had trained as a wallpaper designer and he transferred those skills to the design of tattoos. He is noted for redesigning a large portion of early tattoo flash art.
In the 1920s, with prohibition and then the depression, Chatham Square lost its appeal. The center for tattoo art moved to Coney Island. Across the country, tattooists opened shops in areas that would support them, namely cities with military bases close by, particularly naval bases. Tattoos were known as travel markers. You could tell where a person had been by their tattoos.
After world war II, tattoos became further denigrated by their associations with Marlon Brando type bikers and Juvenile delinquents. Tattooing had little respect in American culture. Then, in 1961 there was an outbreak of hepatitis. Though most tattoo shops had sterilization machines, few used them. Newspapers reported stories of blood poisoning, hepatitis, and other diseases. The general population held tattoo parlours in disrepute. At first, the New York City government gave the tattoo artists an opportunity to form an association and self- regulate.When this did not happen, a health code violation went into effect and the tattoo shops at Times Square and Coney Island were shut down. For a time, it was difficult to get a tattoo in New York. It was illegal and tattoos had a terrible reputation. Few people wanted a tattoo. The better shops moved to Philadelphia and New Jersey where it was still legal.
In the late 1960s, the attitude towards tattooing changed. Much credit can be given to Lyle Tuttle. He tattooed celebrities, particularly women and that led to a lot of publicity for tattooing in general and Lyle in particular.
Today, tattooing is making a strong comeback. It is more popular and accepted than it has ever been. All classes of people seek the best tattoo artists. This rise in popularity has placed tattooists in the category of "fine artist". The tattooist has garnered a respect not seen for over 100 years. Current artists combine the tradition of tattooing with their personal style creating unique and phenomenal body art. With the addition of new inks, tattooing has certainly reached a new plateau.